Get your company's name and logo in front of all the right people, gathered at one vital industry event. Circulate your brand at TPS with your choice of sponsorship.
Sponsor Perks
All sponsors will have their company logo and the item they are sponsoring on the sponsorship page in the Show Guide and on event signage. Sponsors will also have their four-color logo listed by their company description in the Show Guide, and on one floor sticker indicating TPS Sponsorship.
Ready to be a TPS sponsor? Contact Martha Barton at mbarton@tamu.edu.
AISLE SIGNAGE
Rotating Equipment Repair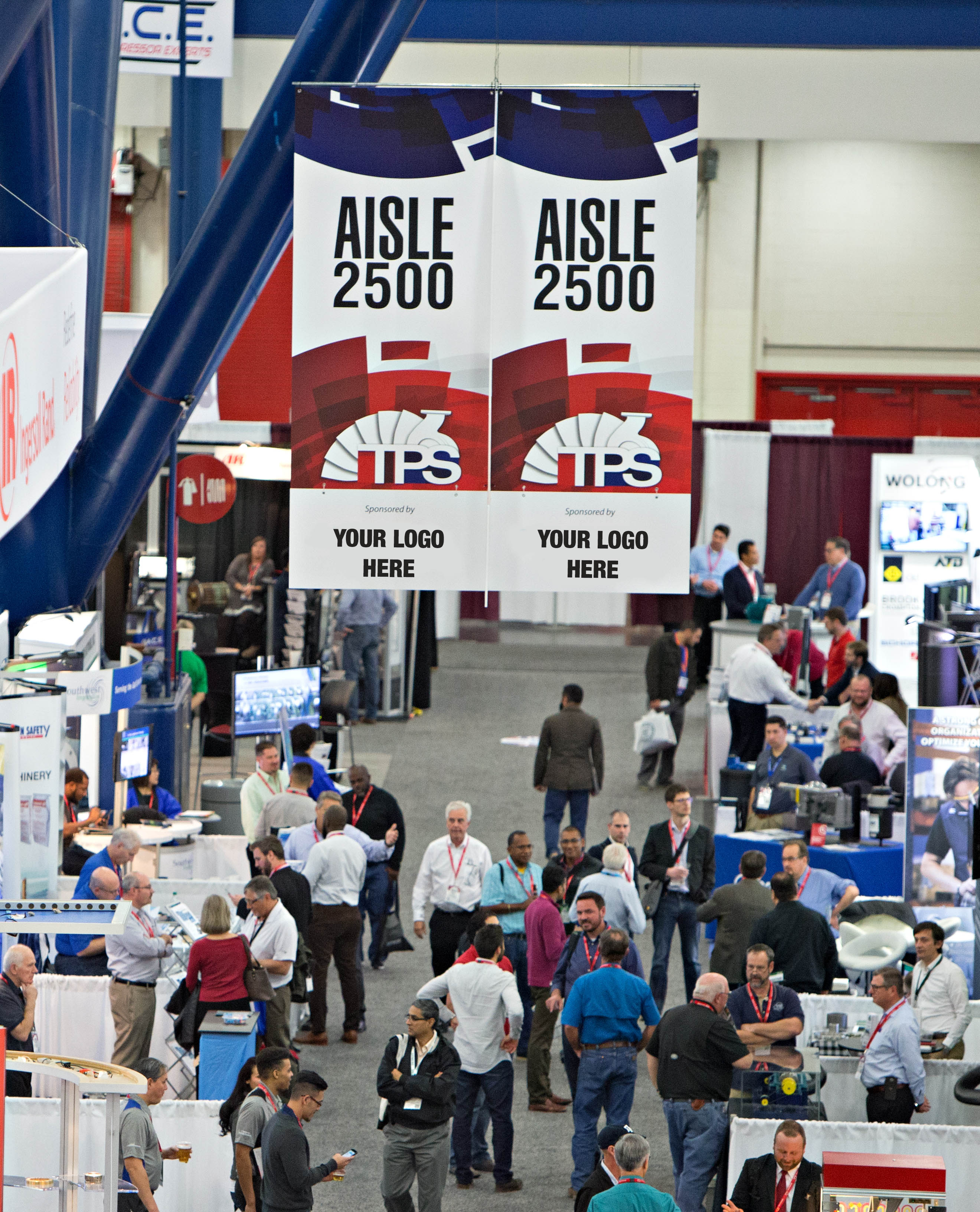 COFFEE BREAKS
Associate your brand with TPS refreshment! Sponsor a coffee break for a day (or two!) on the third floor outside of the technical session rooms. $5,500 – $6,500. Provide branded cups at an additional cost.
Tuesday Coffee Break: Available
Wednesday Coffee Break: Available
Thursday Coffee Break: Available
DELEGATE BAGS
Elliott Group
ESCALATOR RUNNERS
FS-Elliott
FACE MASKS
Sponsor personal face masks with your logo added and will be placed in each delegate bag.
Status: Available
FLOOR AISLE INDICATORS
Ariel Corporation
HOTEL KEY CARDS
Keys to the kingdom! Sponsor the hotel key cards that feature your logo and information. Cost may vary depending on hotel.
Status: Available
Koozies
OTC Industrial Technologies
LANYARDS
MachVib Services Corporation
LUNCH
Lunch is provided on Tuesday and Wednesday in the Exhibit Hall for all exhibitors and attendees.
Status: Available
Cost: Sponsor lunch on Tuesday or Wednesday for $25,000. You are invited to provide branded paper products (plates, napkins, etc.) at an additional cost.
MINI SCREWDRIVER KIT
Status: Available
POCKET MAP
Precision Powered Products
POST-IT NOTES
Branded post-it notes provide a lasting reminder of TPS and your company! Cost may vary depending on size/type.
Status: Available
SOCIAL MEDIA
Empowering Brands
TUESDAY, WEDNESDAY & THURSDAY WATER STATIONS
Host water cooler conversations around your logo! Several water stations are placed around the Exhibit Hall.
Tuesday Water Stations: Available
Wednesday Water Stations: Available
Status: Available Thursday
Cost: Available
WI-FI
Keep the conference connected by sponsoring the Wi-Fi at TPS. Sponsors the entire symposia.
Status: Available
Cost: $10,000 (Contact  Martha Barton for more information.)
Event Sponsors
Available
Cost: $10,000
Designer Bag Sponsors
(1) Available